Since 1902 we have made
our high-quality Parmigiano Reggiano
by hand every day in our dairy.
Our Parmigiano Reggiano Dairy
is a family treasure.
Time is what gives Parmigiano Reggiano its unmistakable aromas, its intense and yet at the same time delicate flavour and its perfect texture. And, likewise, it is time that has made us what we are today. Since 1902, three generations of Lugli cheese makers have continued to create the most precious and elegant of cheeses, always using artisanal methods and following tradition. To give each cheese the perfect aroma, flavour and texture, we use only top-quality milk, selected each day, and we process it just as our grandparents did. Finally today all of the high quality of our Parmigiano Reggiano is also available online in many different ages, perfect for savouring every little nuance of this cheese.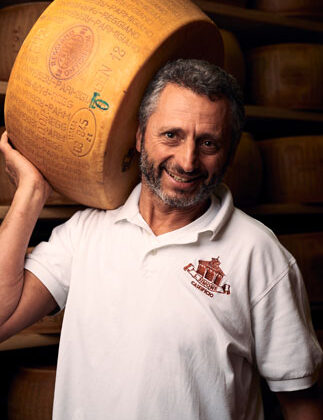 Expert cheese makers
in Reggio Emilia since 1902.
Establishing our dairy in Reggio Emilia was no accident. Here the particular climatic conditions, the long dairy tradition and the high quality of our milk allow us to create a unique Parmigiano Reggiano, rich in flavour and nutritional properties.
This is why we select milk from small local producers, which we know to be of the highest quality.
This is why we only produce 18 wheels of cheese a day, so as to give them the utmost attention.
This is why our Parmigiano Reggiano is so good and genuine, at every age.